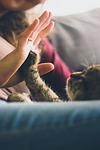 Sunday, May 14th is this year's Mother's Day, and it is just around the corner. It is that time of the year when we dedicate the second Sunday of May to celebrate moms all over the globe for the heroic, selfless, and relentless role they play every day in our lives. We couldn't be any more proud of our moms! This year, attention and recognition go to all 'mothers' of furbabies and cute kitties. Cats might not exactly be our 'kids, ' but we still choose to recognize the invaluable role loving moms play in the nurturing of our furry companions.
How Can You Contribute to this?
Are you a proud cat mom? Or do you happen to know one personally? Or maybe it's a close relative/sibling such as an aunt, sister or girlfriend that can't get over their furry friend. Perfect! Let's all make this year's Mother's Day a special occasion for them. Spoil them with an adorable cat mom mug or that beautiful pendant with an engraved Kitty insignia. It doesn't have to be much. Heck, it can just be a tee-shirt with a colorful scrawl of their favorite 4-legged companion. Whatever it is, just make it cute!
On a more serious note…
Even as we cherish those loving moms who have chosen to accommodate a whiskered companion under their roofs, it is also the opportune time to raise awareness of the importance of observing recommended pet handling/ownership measures as directed by the Animal Humane Association. For instance, when was the last time you brought in your kitty for a thorough and comprehensive dental checkup? Is it vaccinated against common feline infections? Is it neutered or spayed to combat chances of contracting uterine or ovarian cancers? Even as we shower our proud cat moms with gifts and appreciation, this year's Mother's Day is also a good time to remind of the best ways of fortifying their favorite pet's wellbeing.
SOURCES: Modern Cat, Cat Wisdom 101, ASPCA
COPYRIGHT: Local Value