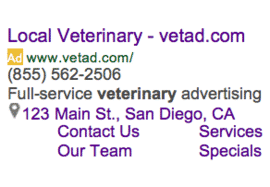 Pay Per Click (PPC) advertising is the most cost effective way to reach pet owners in your area.  It allows you to target your local area for pet owners looking for your veterinary practice.  People in your area are looking for you to take care of their loved ones; their pets.
We manage your Google, Bing, and Yahoo PPC advertising for you addressing all aspects of your campaign.  We consult with you to understand your Veterinarian practice, what services you offer, what your practice is all about, and represent that in your advertising campaign.  We create custom campaigns based on your brand image, location and the services you offer.   We manage your keywords, bids, campaign, messages, ad copy, ad spend, and placement in search engines.  We even run specialized campaigns for specials you're running.  We help you beat your competition at getting available new clients and their pets to choose your practice.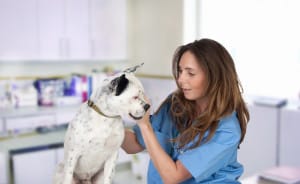 Every month, we meet with you to explain the success of your campaign, and recommendations for areas to improve it.  Each month you get an update to the latest in advertising trends for Veterinarian PPC campaigns.  Every month, you are able to quantify the results of your campaign and know what your Return on Investment for your advertising budget is.